While Goeckner Bros. has been a car dealership since 1937, the original Goeckner Brothers started in business even earlier than that.  In 1932, Albert & Frank Goeckner started a small repair shop in a building on East Jefferson, behind the current Lange Electric building.  In those first few years, they serviced cars & motorcycles, but they did not sell vehicles. Then in 1937, they built a dealership at 403 E. Fayette and founded Goeckner Bros. Sales & Service.  
They carried the Plymouth & DeSoto franchises and continued to service a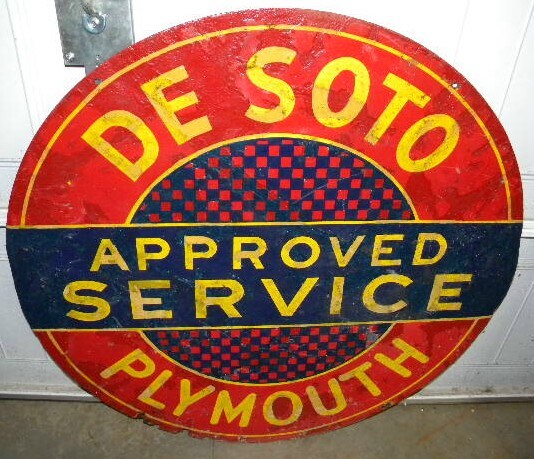 variety of vehicles. At that time, they were considered a sub-dealer, which meant that they bought their inventory from a large dealer in St. Louis, rather than buying directly from the company.  In the fall of 1937, they delivered their first new vehicle to Bob Esker, Sr. of Teutopolis.  They continued as a sub-dealer for several years until Chrysler felt that they were selling enough vehicles to be a stand-alone dealer.  Albert & Frank continued to sell the Plymouth and DeSoto Lines through the 1940's & 50's.  During that time, Effingham had 3 different Chrysler franchise dealerships.  Albert & Frank had Plymouth & DeSoto, Jack Graham sold Chrysler & Plymouth vehicles, and Berg-Siefken had the Dodge car & truck franchises. 
1960 was the last year for the DeSoto nameplate.  By that time, there was no  longer a Dodge dealer in town.  Chrysler asked Albert & Frank if they would be willing

 to take over the Dodge & Dodge Truck franchise and allow Jack Graham to become the  sole Plymouth dealer in town.  Because the family had numerous ties in the farming community, they jumped at the chance to be able to sell Dodge Trucks.  So in the fall of 1960, Goeckner Bros. began selling the new 1961 model year Dodge cars & trucks.  Albert & Frank continued selling Dodges out of this location through the 1976 model year.  At that time, Paul had been working in the service dept. for approximately 4 years, while Mark had graduated from SIU at Carbondale and had been working at Effingham Truck Sales as office manager and warranty administrator.

On September 1, 1976, Mark and Paul officially bought out Albert & Frank and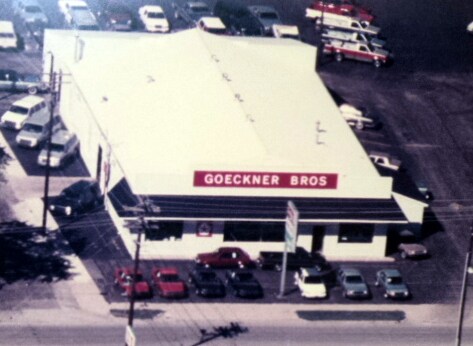 moved into a building at 600 E. Fayette Avenue.  They also incorporated the business at that time, so Goeckner Bros. Sales & Service became Goeckner Bros., Inc.  By that time, Jack Graham had gone out of business, so Mark & Paul added the Chrysler nameplate to their lineup.  In 1981, they regained Plymouth.  In 1992, Goeckner Bros. was offered the Jeep/Eagle franchise.  They gladly added the franchise to their lineup and became one of the few full line Chrysler dealers in the country at that time.  In 2006, Goeckner Bros. added the Dodge Sprinter franchise of commercial vans & in 2007, they were one of the first dealers in the country to get Dodge's new Commercial Truck Franchise, featuring the Heavy Duty Ram 4500 & 5500.
Over the years, many improvements and expansions were made to both the buildings and the lot.  In 1983, they purchased the adjoining lot at 604 E. Fayette.  The house that stood on the lot was torn down to create a larger display lot for the new & used vehicles.  Mark and Paul completely remodeled the dealership in 1984.  In June of 1991, the house across Cleveland Street at 510 E. Fayette was purchased  and torn down to create a truck lot. 

On March 30, 1992, they broke ground for the current building at the right rear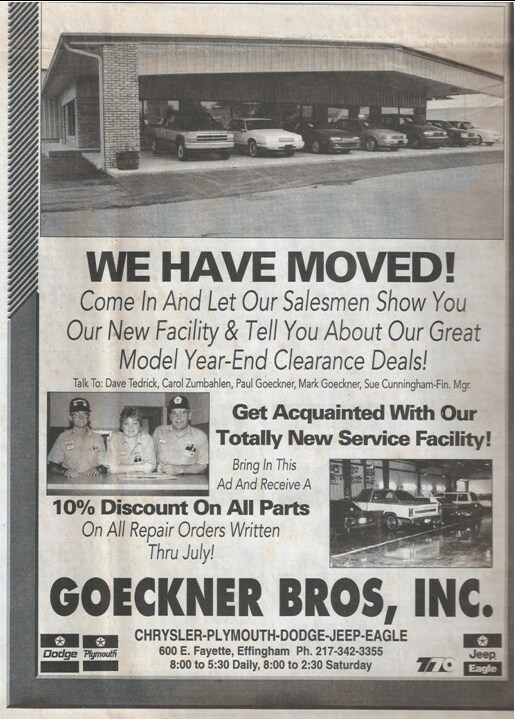 corner of their existing lot.  In early July of '92 they moved from the old building into   the new building.  Then in August, the old building was torn down, and the area where it had stood became the used car lot.  In September of 1998, Mark & Paul bought the storage building & house on the east side of the lot.  They tore down the house and part of the storage building to expand the new car & truck lot.  In mid 2002, they bought the house next to the used truck lot and tore it down to expand the used truck lot and provide more parking for rental & loaner vehicles.  In 2007, Mark bought out Paul a few years prior to Paul's retirement.

Unfortunately, the founding fathers of Goeckner Bros. were not around to see many of these changes, as Frank died in March of 1985, and Albert passed on in September of 1990.  We feel that they would be proud to know that a 3rd generation is carrying on the family tradition, with Mark's children Thorin, Neeley & Travis all working at the dealership in management roles.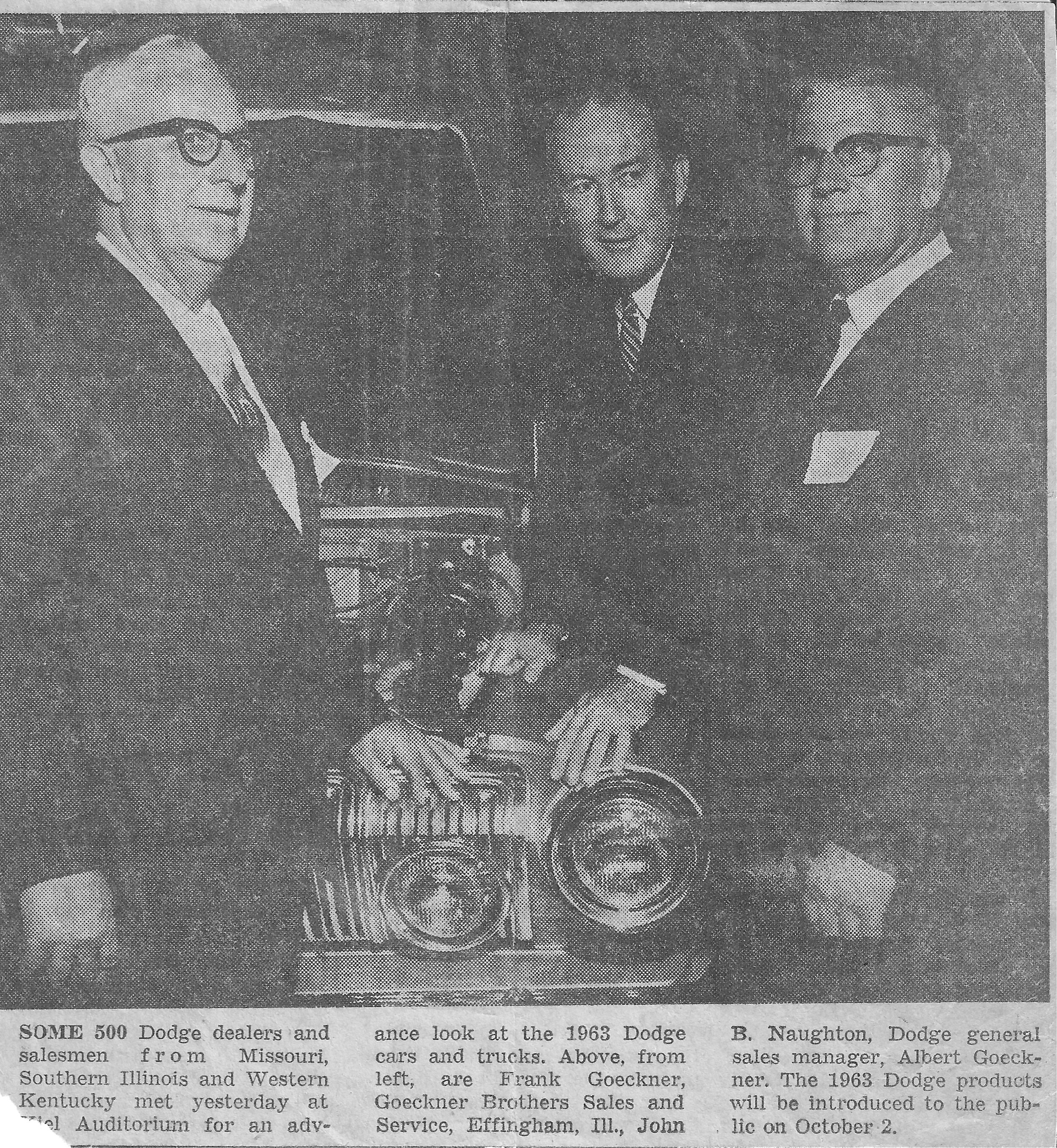 Left: Frank Goeckner     Right: Albert Goeckner
Center: John Naughton, Dodge General Sales Manager