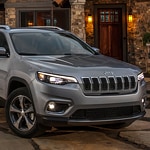 The 2020 Jeep Cherokee will make it fun for you to hit the open road. It doesn't matter whether you will be driving a long distance or short distance. Your drive will be a lot better because the Jeep Cherokee has a variety of capability features. This vehicle has Jeep Active Drive.
This feature will make it easier for you to drive on an unpredictable road. It will carefully monitor your vehicle for any signs of slippage. It will automatically engage the four-wheel drive.
This vehicle also has all-weather 4*4 capability. It will be a lot easier for you to drive in different weather conditions. You never know when you may end up in heavy rain or a snowstorm. The Jeep Cherokee has been created to handle just about any road surface or weather condition. You can visit our dealership if you want to test drive the vehicle.