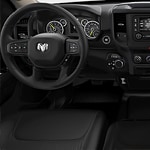 When searching for the perfect truck, drivers in Effingham, IL know that safety is just as important as performance. With the Ram 1500, a popular light-duty truck, drivers can rest assured that the vehicle is actively working to keep them and their passengers as safe as possible.
The Ram 1500's lane departure warning alerts drivers if they unintentionally drift. Not only does this visually signal the driver, but the system can actually help to guide the truck back onto the correct course. The blind-spot monitoring system also helps to alert drivers in the event that another vehicle is too close when turning or changing lanes. The system also takes the length of whatever's being towed into account as well, so towing is stress-free.
Visit us at Goeckner Bros Inc to learn more about the Ram 1500's safety features, and set up a test drive to experience all the truck has to offer for yourself.