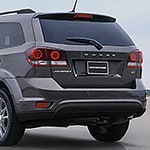 You will really be able to drive off-road in comfort when you are in the Dodge Journey. Thanks to its many performance features, this has become quite a popular mid-size SUV today. You will find that it is loaded with accessories that will make even the longest of drives a lot more comfortable than you ever imagined.
With the electronic stability control system, you will be able to stay stable when you are driving on rough terrain. Your passengers will really appreciate this as well. This is all courtesy of the antilock brake system working in conjunction with an all-speed traction control mechanism.
You will also have several types of suspension packages to choose from. You know the type of driving you will be doing, so this gives you a chance to further customize your Dodge Journey. Feel free to take it for a test drive and check everything out when you visit Goeckner Bros Inc.